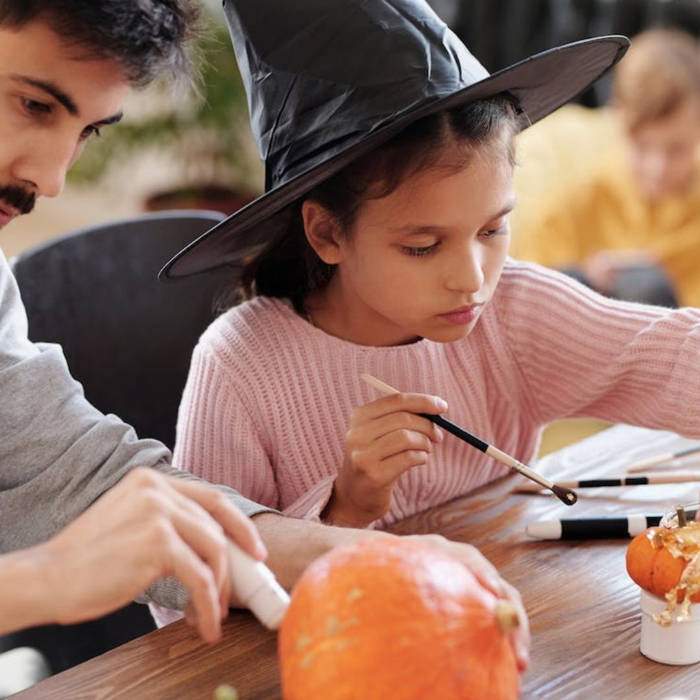 Family Fun on Halloween! Games and Activities for an Exciting Night 🎃
Hey there, spooky souls! Halloween is just around the corner, and it's time to get your costumes ready and pumpkins carved. But wait, what's Halloween without some family fun and thrilling activities? 🧛‍♂️👻🕷️
In this guide, we're going to explore some fantastic games and activities that will turn your Halloween night into a spine-tingling, laughter-filled adventure. Whether you're a parent looking to entertain your little ghouls or a big kid at heart, we've got you covered!
Spooktacular Scavenger Hunt 👀🔍
Let's kick things off with a classic Halloween activity – the spooky scavenger hunt! This game is perfect for all ages, and you can customize it to suit your family's spookiness level. Here's how to do it:
What You'll Need:
Halloween-themed clues (e.g., "Where do witches brew their potions?")
Treats or small prizes
Flashlights (for added drama)
How to Play:
Create clues related to Halloween decorations or spooky places around your home or neighborhood.
Hand out the first clue to the participants. Each clue should lead to the next location.
At each location, have a treat waiting for the hunters.
Keep the excitement alive by having everyone use flashlights, even if it's not too dark outside.
This game will keep the whole family engaged as they work together to solve riddles and discover hidden treasures. It's a bewitching adventure that's sure to leave everyone with a smile.
Pumpkin Decorating Extravaganza 🎨🎃
What's Halloween without pumpkins? Turn pumpkin carving into a creative family affair with a Pumpkin Decorating Extravaganza! Here's how to make it memorable:
What You'll Need:
Pumpkins (of course!)
Paints, markers, and other art supplies
Newspaper or a mess-friendly workspace
Imagination and creativity!
How to Play:
Set up your pumpkin decorating station with all the supplies laid out.
Let each family member pick their pumpkin and get as creative as they want.
Encourage everyone to think beyond the typical jack-o'-lantern face. You can create monsters, superheroes, or even famous works of art!
When everyone is finished, display your pumpkin masterpieces for all to see.
This activity not only lets your artistic side shine but also results in stunning Halloween decorations for your home. Plus, it's a mess that's easy to clean up, so you won't be haunted by pumpkin goo for weeks!
Haunted Movie Marathon 🎥👻
Sometimes, a cozy night in with your favorite spooky movies is all you need. Gather the family, pop some popcorn, and have a haunted movie marathon. Here are some family-friendly Halloween movie suggestions:
"Hocus Pocus": Join the Sanderson sisters for a hilarious Halloween adventure.
"Coco": Explore the vibrant world of Dia de los Muertos in this heartwarming Disney-Pixar film.
"Monster Family": Follow the Wishbone family as they embark on a spooktacular vacation.
"The Nightmare Before Christmas": Get in the Halloween and Christmas spirit with Jack Skellington.
Don't forget to create a comfy movie-watching space with blankets and pillows. And for an added twist, you can have a costume contest during the intermissions!
Terrifyingly Tasty Treats 🍭👹
Halloween isn't just about candy – it's also about crafting some eerily delicious treats with your family. Try these recipes for a tasty twist on Halloween favorites:
Wicked Witch's Brew Punch 🧙‍♀️🍹
Ingredients:
Lime sherbet
Lemon-lime soda
Green food coloring
Gummy worms (optional)
Instructions:
Scoop lime sherbet into a punch bowl.
Pour lemon-lime soda over the sherbet until it fizzes.
Add a few drops of green food coloring for a spooky hue.
Garnish with gummy worms for an extra creepy touch.
Mummy Hot Dogs 🌭👻
Ingredients:
Hot dogs
Crescent roll dough
Mustard or ketchup for eyes
Instructions:
Preheat your oven as per the crescent roll package instructions.
Wrap each hot dog with strips of crescent roll dough, leaving a small gap for the eyes.
Bake until the dough is golden brown.
Add mustard or ketchup eyes to make them look like mummies.
These recipes are not only tasty but also a fun and interactive way to involve your little ones in the kitchen. Plus, they'll love eating the spooky creations they've helped make!
Eerie Escape Room Adventure 🚪🗝️
If your family is up for a thrilling challenge, consider creating your own Halloween-themed escape room right at home! Here's how to set it up:
What You'll Need:
A series of puzzles or riddles
A timer
A spooky story or theme
Prizes for those who escape within the time limit
How to Play:
Design a storyline that sets the scene for your escape room, such as "You've been locked in a haunted mansion, and you must find the key to escape before the ghosts catch you."
Create a series of puzzles and riddles that need to be solved to progress through the game.
Set a timer and challenge your family to escape within a certain time frame.
Have small prizes or treats for those who succeed!
This activity is perfect for older kids and teens who love a good mystery. It's a fantastic way to encourage problem-solving and teamwork while having a blast.
Ghostly Glow-in-the-Dark Bowling 🎳👽
Transform your living room into a cosmic bowling alley with this ghostly glow-in-the-dark bowling game! Here's what you'll need:
What You'll Need:
Empty water bottles
Glow sticks
A small ball (like a softball or a bouncy ball)
How to Play:
Fill the empty water bottles with glow sticks (activate them before you start).
Arrange the bottles like bowling pins at one end of the hallway or living room.
Turn off the lights and make sure the room is as dark as possible.
Use the small ball to roll and knock down the glowing "pins."
This game adds a spooky twist to a classic pastime and is sure to keep everyone entertained for hours. Plus, the eerie glow adds to the Halloween atmosphere.
Pumpkin Bowling 🎃🎳
If you have leftover pumpkins from your decorating extravaganza, why not turn them into bowling balls? It's simple:
What You'll Need:
Small to medium-sized pumpkins
Empty soda bottles (as pins)
How to Play:
Set up the soda bottles in a triangular formation, just like traditional bowling pins.
Take turns rolling the pumpkins towards the pins, trying to knock down as many as possible.
Keep score and compete for Halloween bragging rights.
This game is perfect for outdoor Halloween fun and adds a touch of whimsy to your celebration.
Fang-tastic Costume Fashion Show 👗👑
Show off your spooktacular costumes in a family fashion show! Here's how to make it a memorable event:
How to Play:
Have each family member dress up in their Halloween costumes.
Set up a runway in your living room or backyard using a bedsheet or cardboard.
Take turns strutting your stuff down the runway, showing off your costumes and striking your best spooky poses.
Use a smartphone or camera to capture the runway moments.
At the end, award prizes for categories like "Best Costume," "Funniest Costume," or "Most Creative Costume."
This activity not only celebrates everyone's creativity but also allows you to capture lasting memories of your Halloween together.
Conclusion 🎃👻🌕
Halloween is all about making memories and having fun with your loved ones. With these thrilling games and activities, you can create a Halloween night that your family will cherish for years to come. So, get ready to embrace the spookiness, enjoy some delicious treats, and let your imagination run wild.
Remember, the most important thing is to spend quality time together and make this Halloween a howling success. Now, go forth and have a wickedly good time! 🧙‍♂️🍬🎃