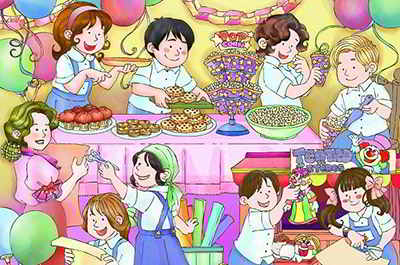 Recursos Educativos en inglés - Worksheets Reading Comprehension
Fichas Infantiles y ejercicios en Inglés para Aprender y practicar el inglés
Texto para leer y practicar la pronunciación del inglés
Come to my party
Hello
My name is Pete and I'm six years old, but tomorrow is my birthday, so tomorrow I'll be seven years old; I want to celebrate my birthday. I'll prepare a great party and I'll invite all my friends and school mates. I'm sure I'll get wonderful presents. My mother is going to bake a delicious chocolate birthday cake and I'll blow seven candles. We will dance we will sing funny songs and play a lot of cool games. It will be a fantastic party. We will have great fun. Do you want to come to my party? You are invited.
Comprehension questions:
When is Pete's birthday?
How old is Pete today? And tomorrow?
What are they going to do at the party?
How any candles is Pete going to blow?
What are they going to eat?
We think
Qué expresiones utilizarías para felicitar el cumpleaños?
Happy birthday to you
Thank you very much
I like your party
My best wishes for your birthday
Thanks for coming to my party