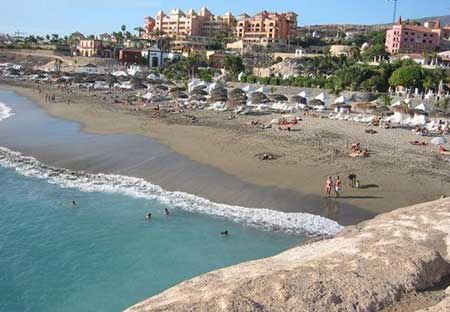 This municipality is located on the southwest of Tenerife. Recently, the coast, known as Costa Adeje, has undergone a major development of its hotel infrastructure, which is of an extremely high quality and where the tourist facilities have endowed the area with everything it needs to ensure that it retains its great beauty. Under its administration lie some of the island´s main tourist resorts, such as San Eugenio, Fañabé, Playa del Duque and part of the very popular Playa de Las Américas.
An average annual temperature of 23 degrees centigrade and full day- and night-time leisure facilities add to the appeal of this southern zone. The area has a surprising wealth of marine fauna, with one of the world´s most important colonies of cetaceans. Pilot whales, dolphins and other species of marine mammals can be seen off its shores, providing a natural spectacle that can be viewed from the numerous boats that offer excursions to observe them swimming in their natural habitat.
Two championship level golf courses complete the range of leisure activities on offer in the area.
How to get there
The municipality of Adeje is situated in the south west of the island of Tenerife (Canary Islands), and has a surface area of 105.94 square kilometres, making it the sixth largest municipality on the island.
Tenerife has two airports, Reina Sofia airport in the south, only ten minutes drive from Costa Adeje, and Los Rodeos in the north.
Once on the island, there are several modes of transport you can use to get around; taxis, buses, hire cars...
Buses (Guaguas)
Titsa - Estación de Autobuses
Avda. de los Pueblos, s/n
38660 Costa Adeje
922795427 / 922531300 / 922795082
http://www.titsa.com/
Taxis
Taxi Villa de Adeje
Avda. Ernesto Sartí
38660 Costa Adeje
922714462 / 922715407 / 922714669
Hire vehicles
Adventure Club Tenerife
C/ Londres, 3 Ctro. Com. Sol Sun Beach
38660 Costa Adeje
Tfno. 922716155
Atlas Rent a Car
Avenida de Adeje, local 11
38678 Playa Paraiso . Adeje
Tfno. 922741682
Atlas Rent a Car
Avda. V Centenario,7 Hotel Paraiso del Sol
38660 Costa Adeje
922750470 / 677413395
Auto Reisen (Orcar Canarias)
Avda. Londres, 1 Ctro.Com. Playa Fañabé
38660 Costa Adeje
922712068
Autored (Hertz)
Avda. Bruselas, 4
38660 Costa Adeje
922715301
Autos Moreno
Avda. Bruselas. C.C. Plaza, local 254
38660 Costa Adeje
922715794 / 628015487
Avia Car
C/ Cataluña Edficio Oro Verde
38660 Costa Adeje
922717685
Bike-Xpress
Adeje
678074322
Weather
Not just a tourist slogan, it is true to say that the weather on our island is always good. The special geographic location of Tenerife and the occurrence of a series of factors in the area, including the continual caress of the trade winds, provide for pleasant average temperatures all year round. It is not cold in winter, yet the heat in summertime is not suffocating.
During the four seasons, the thermometer generally fluctuates between eighteen and thirty degrees.
Tourist information
Oficina de Turismo Troya
C/ Rafael Puig de Lluvina, 1
38660 Costa Adeje
922750633 / 922788955
Oficina de Turismo Playa Fañabé
Avda. Litoral s/n. Playa de Fañabé
38660 Costa Adeje
922716539 / 922716643
Oficina de Turismo Plaza del Duque
Ctro. Com. Plaza del Duque
38660 Costa Adeje
922716377
Health care and safety
Tenerife has always been a very secure island where the visitor is received with warmth, friendliness and hospitality.
Costa Adeje want their visitors to enjoy a pleasant and relaxing holiday and aside from amplifying the police and vigilance corps, we have just inaugurated the "Complete Security School of Adeje", that is a multidisciplinary training centre, which is directed towards the professional collective groups working in the security sector: police, firemen, lifesavers, and civil protection, businessmen and the people in general etc. This pioneering project in the Canaries, shows once again how the Town Hall of Adeje is involved in the security for our visitors and our neighbours.
The Quality QUOSI System is a new modernization Plan of the working system of the Local Police Corps of Adeje, which creates an agreement of commitments between the townspeople and the local police, where the corps promises to give a more efficient service.
Beaches & Coasts
The privileged climate of the island of Tenerife allows us to enjoy no end of activities in its waters nearly all year round, with a temperature of between 20 and 23 degrees annually.
Water skiing, sailing, scuba diving, fishing, boat trips, are only some of the options we have at our disposal to help you fully enjoy your stay.
Troya Beach: The longest established beach in Costa Adeje, located very centrally.
Provided with lifeguards, sun beds, sunshades parking, restaurants, bars, showers, changing rooms, toilets, telephone, taxi rank and bus stop (routes 111 - 343 - 416 - 473).
Playa del Duque: Situated in one of the newest areas of Costa Adeje, next to the emblematic Gran Hotel Bahía del Duque.
Provided with sun beds, sunshades, parking, restaurants, and bars, showers, changing rooms, toilets and telephones.
Playa de Fañabé: This is one of the principle beaches in Costa Adeje.
Numerous shops and restaurants offer a complementary service to the user.Provided with life guards, sun beds, sunshades, parking, restaurants, bars, showers, changing rooms, toilets, telephones, taxi rank and bus stop (routes 111 - 343 - 416 - 473)
Playa de la Pinta: Located next to Puerto Colon, one of the principle marinas on the island. Provided with security guards, sun beds, sunshades, parking, restaurants, bars, showers, changing rooms, toilets, handicap friendly access, taxi rank and bus stop (routes 111 - 343 - 416 - 473) and telephone.
Beach Diego Hernández: "Playa Blanca", also known as "Diego Hernández", is a small beach about two hundred meters long, with calm waters and almost entirely composed of white volcanic sand. It is located between the fishermen villages of "La Caleta" and "El Puertito de Adeje".
The beach that is located in a small bay with the same name "Diego Hernández", is part of a nature reserve in the southwest of the island and its access is not complicated.
It can be reached from "La Caleta" or "El Puertito de Armeñime".
Nature
The municipality of Adeje extends from the coast up to a part of the Teide National Park. So it is not surprising that there is such a variety of pathways to enjoy the natural surroundings.
We also have the second most visited natural spot on the island, El Barranco del Infierno (Hell's Ravine), a place characteristic of southern geography, with a natural waterfall.
Festivals and traditions
The municipality of Adeje some interesting propositions for leisure pursuits, as much for the residents as for the visitors.
In a historically religious town, Easter plays an important role in the calendar of activities. It has now become a custom, and for several years now, more than two hundred actors meet in La Calle Grande (main street) to present The Death and Passion of Jesus Christ. Every year more people turn up to enjoy this interesting event.
Neither must we forget the carpets of the Corpus, created by organizations and local residents, which cover the Calle Grande in the city centre with colour.
And of course the fiestas in honour of the patrons, La Virgen de la Encarnación and Santa Ursula during the month of October, when you can enjoy the traditional Romeria (pilgrimage celebration).
Información proporcionada por la oficina de turismo de Adeje.
Para ver Información en español sobre Tenerife, pulsa en el siguiente enlace: Turismo Tenerife