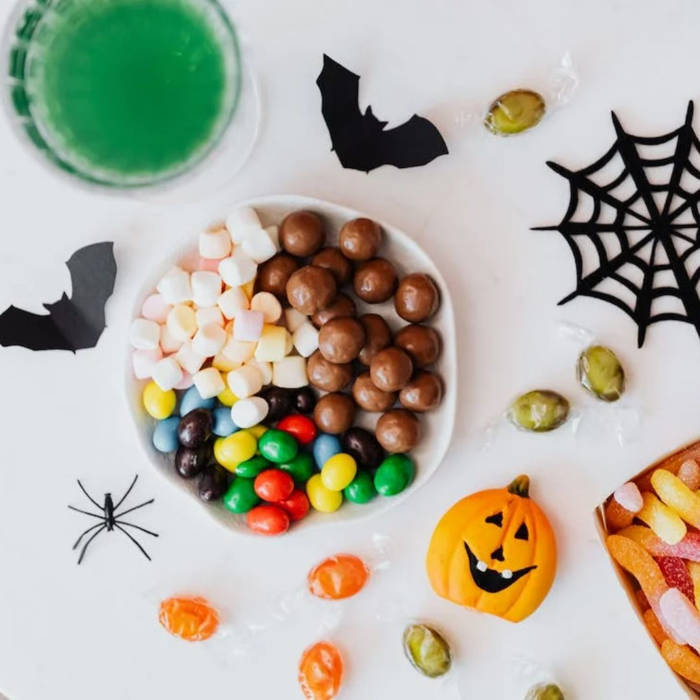 Title: The Most Terrifying Halloween Recipes: Get Ready for a Spine-Chilling Feast! 👻🎃
Hey there, fellow Halloween enthusiasts! 🦇🕷️ Are you ready for the spookiest time of the year? Halloween is just around the corner, and it's the perfect excuse to indulge in some delightfully eerie and bone-chilling culinary creations. In this article, we're going to take you on a culinary journey through the most terrifying Halloween recipes that will leave your guests screaming for more. 🧛‍♂️🧟‍♀️
👉 But before we dive into the recipes, let's set the stage for a truly hair-raising Halloween feast!
Creating the Perfect Halloween Atmosphere
Before we get to the recipes, let's talk about setting the mood. Half the fun of Halloween is the atmosphere you create, and it all starts with your decorations and ambiance. 🌕🕯️
Spooky Decor: Transform your dining area into a haunted house with cobwebs, faux spiders, and eerie lighting. Pumpkins, black cats, and skeletons are your best friends when it comes to decorations.
Sinister Soundtrack: Create a playlist of spooky tunes to play in the background. Think "Monster Mash" and the "Ghostbusters" theme song. It'll add a thrilling vibe to your gathering.
Costume Party: Encourage your guests to come in their scariest costumes. You can even have a costume contest with prizes for the best-dressed monsters!
Flickering Candles: Use candles or battery-operated LED candles to give your home an eerie glow. Place them strategically for that haunted mansion look.
Now that you've set the stage, let's delve into the heart of the Halloween celebration—the terrifyingly tasty dishes!
1. Ghastly Goulash
🎃🍲 Kick off your Halloween feast with a steaming bowl of Ghastly Goulash. This hearty stew will warm your bones and your soul as you prepare to face the night's frights. Here's what you'll need:
Ingredients:
1 pound of beef stew meat
2 tablespoons of olive oil
1 onion, chopped
2 cloves of garlic, minced
2 carrots, diced
2 potatoes, peeled and cubed
1 can of diced tomatoes
4 cups of beef broth
1 teaspoon of paprika
Salt and pepper to taste
Instructions:
In a large pot, heat the olive oil over medium-high heat. Add the beef and brown it on all sides. Remove the beef and set it aside.
In the same pot, add the onions and garlic. Sauté until fragrant.
Add the carrots and potatoes and sauté for a few more minutes.
Return the beef to the pot and add the diced tomatoes, beef broth, and paprika.
Season with salt and pepper, then bring the mixture to a boil.
Reduce the heat to low, cover, and simmer for about 1.5 hours or until the beef is tender.
Serve your Ghastly Goulash in a cauldron for that extra touch of spookiness! ☠️
2. Mummified Meatloaf
What's Halloween without a little mummification, right? This Mummified Meatloaf is not only terrifying to look at but also incredibly delicious. Here's how to create this edible masterpiece:
Ingredients:
1.5 pounds of ground beef
1 cup of breadcrumbs
1 onion, finely chopped
2 cloves of garlic, minced
1/4 cup of ketchup
2 tablespoons of Worcestershire sauce
1 teaspoon of dried oregano
Salt and pepper to taste
2 eggs
1 can of refrigerated crescent roll dough
Instructions:
In a large bowl, combine the ground beef, breadcrumbs, chopped onion, minced garlic, ketchup, Worcestershire sauce, oregano, salt, pepper, and eggs. Mix until well combined.
Shape the mixture into a mummy-shaped loaf on a baking sheet lined with parchment paper.
Unroll the crescent roll dough and cut it into thin strips. Use these strips to wrap the meatloaf, creating a mummy-like appearance.
Leave a small opening for the "mummy's eyes" and place two sliced black olives as the eyes.
Bake in a preheated oven at 375°F (190°C) for 30-35 minutes or until the meatloaf is cooked through and the crescent roll dough is golden brown.
Your guests will be both terrified and delighted by this creepy creation! 🧟‍♂️
3. Petrifying Pumpkin Soup
No Halloween feast is complete without something pumpkin-themed. Enter the Petrifying Pumpkin Soup—creamy, comforting, and utterly terrifying! Here's what you'll need:
Ingredients:
1 small pumpkin, peeled and diced
1 onion, chopped
2 cloves of garlic, minced
4 cups of chicken or vegetable broth
1/2 cup of heavy cream
1/2 teaspoon of nutmeg
Salt and pepper to taste
Olive oil
Pumpkin seeds for garnish
Instructions:
In a large pot, heat some olive oil over medium heat. Add the chopped onion and garlic, and sauté until translucent.
Add the diced pumpkin and sauté for a few more minutes.
Pour in the chicken or vegetable broth and bring the mixture to a boil. Reduce the heat and simmer until the pumpkin is tender.
Use an immersion blender to puree the soup until smooth.
Stir in the heavy cream and nutmeg. Season with salt and pepper to taste.
Serve the soup in individual bowls, garnished with pumpkin seeds for that extra eerie crunch.
This soup is sure to warm your guests' hearts as they prepare to face the Halloween chills. 🎃👻
4. Witch's Brew Punch
You can't have a Halloween feast without a spooky beverage to wash it down. Enter the Witch's Brew Punch—a bewitching concoction that'll leave your guests spellbound! 🧙‍♀️🍹
Ingredients:
4 cups of apple cider
2 cups of cranberry juice
1 cup of orange juice
1 cup of ginger ale
1/4 cup of grenadine syrup
Orange slices, apple slices, and frozen cranberries for garnish
Instructions:
In a large punch bowl, combine the apple cider, cranberry juice, orange juice, ginger ale, and grenadine syrup.
Stir well to mix all the ingredients.
Add orange slices, apple slices, and frozen cranberries to the punch for a spooky touch.
Serve the Witch's Brew Punch in glasses with ice, and watch your guests be enchanted by its deliciousness!
5. Deviled Eyeballs
Now, let's get to some creepy finger food—Deviled Eyeballs! These tasty bites will have your guests doing double takes as they dig in. 👁️👁️
Ingredients:
6 hard-boiled eggs, peeled
3 tablespoons of mayonnaise
1 teaspoon of Dijon mustard
Salt and pepper to taste
Kalamata olives, pitted
Red food coloring
Instructions:
Slice the hard-boiled eggs in half lengthwise.
Remove the yolks and place them in a bowl. Mash the yolks with mayonnaise, Dijon mustard, salt, and pepper until smooth.
Spoon the yolk mixture back into the egg white halves.
Slice the pitted Kalamata olives into thin rounds. Place one olive round in the center of each deviled egg.
To create the bloodshot effect, use a toothpick dipped in red food coloring to draw squiggly lines on the white of the egg.
These Deviled Eyeballs are both chilling and delicious!
6. Severed Finger Hot Dogs
For a truly gruesome treat, try making Severed Finger Hot Dogs. These are a hit at any Halloween party, and they're surprisingly easy to prepare. 🖐️🌭
Ingredients:
Hot dogs
Hot dog buns
Ketchup
Sliced almonds
Instructions:
Cut a small section off one end of each hot dog to create a fingernail.
Make shallow cuts along the length of the hot dog to create knuckles.
Grill or boil the hot dogs until they are cooked to your liking.
Place each cooked hot dog in a bun.
Add a little ketchup to the "nail" end of the hot dog.
Insert a sliced almond into the ketchup to create the severed finger's "nail."
Serve these gruesome delights with a side of ketchup for dipping. Your guests won't be able to resist this creepy snack!
A Halloween Feast to Remember
There you have it, a bone-chilling lineup of Halloween recipes that will turn your spooky gathering into an unforgettable feast of frights and flavors. Whether you're hosting a party or simply celebrating with family and friends, these recipes are sure to add a terrifyingly tasty touch to your Halloween festivities. 🕸️🎉
So, don your scariest costume, set the mood with eerie decorations, and let the Halloween feast begin! From Ghastly Goulash to Deviled Eyeballs, these recipes will ensure that your Halloween celebration is one for the books. Have a spooktacular Halloween, filled with delicious horrors and ghoulish delights! 🦴🕷️🦇