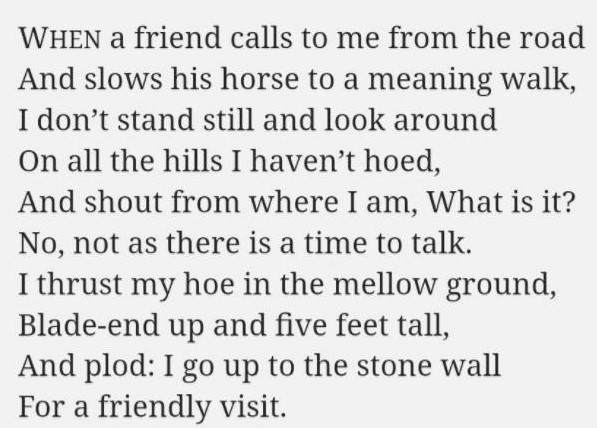 Recursos Educativos en Inglés - Poems in English - Poesías en inglés
Out Out - Robert Frost
The buzz-saw snarled and rattled in the yard
And made dust and dropped stove-length sticks of wood,
Sweet-scented stuff when the breeze drew across it.
And from there those that lifted eyes could count
Five mountain ranges one behind the other
Under the sunset far into Vermont.
And the saw snarled and rattled, snarled and rattled,
As it ran light, or had to bear a load.
And nothing happened: day was all but done.
Call it a day, I wish they might have said
To please the boy by giving him the half hour
That a boy counts so much when saved from work.
His sister stood beside them in her apron
To tell them "Supper." At the word, the saw,
As if to prove saws knew what supper meant,
Leaped out at the boy's hand, or seemed to leap—
He must have given the hand. However it was,
Neither refused the meeting. But the hand!
The boy's first outcry was a rueful laugh,
As he swung toward them holding up the hand
Half in appeal, but half as if to keep
The life from spilling. Then the boy saw all—
Since he was old enough to know, big boy
Doing a man's work, though a child at heart—
He saw all spoiled. "Don't let him cut my hand off—
The doctor, when he comes. Don't let him, sister!"
So. But the hand was gone already.
The doctor put him in the dark of ether.
He lay and puffed his lips out with his breath.
And then—the watcher at his pulse took fright.
No one believed. They listened at his heart.
Little—less—nothing!—and that ended it.
No more to build on there. And they, since they
Were not the one dead, turned to their affairs.
My November Guest - Robert Frost
My Sorrow, when she's here with me,
Thinks these dark days of autumn rain
Are beautiful as days can be;
She loves the bare, the withered tree;
She walks the sodden pasture lane.
Her pleasure will not let me stay.
She talks and I am fain to list:
She's glad the birds are gone away,
She's glad her simple worsted grey
Is silver now with clinging mist.
The desolate, deserted trees,
The faded earth, the heavy sky,
The beauties she so truly sees,
She thinks I have no eye for these,
And vexes me for reason why.
Not yesterday I learned to know
The love of bare November days
Before the coming of the snow,
But it were vain to tell her so,
And they are better for her praise
Stopping By Woods On A Snowy Evening - Robert Frost
Whose woods these are I think I know.
His house is in the village though;
He will not see me stopping here
To watch his woods fill up with snow.
My little horse must think it queer
To stop without a farmhouse near
Between the woods and frozen lake
The darkest evening of the year.
He gives his harness bells a shake
To ask if there is some mistake.
The only other sound's the sweep
Of easy wind and downy flake.
The woods are lovely, dark and deep,
But I have promises to keep,
And miles to go before I sleep,
And miles to go before I sleep.
The Road Not Taken - Robert Frost
Two roads diverged in a yellow wood,
And sorry I could not travel both
And be one traveler, long I stood
And looked down one as far as I could
To where it bent in the undergrowth;
Then took the other, as just as fair,
And having perhaps the better claim
Because it was grassy and wanted wear,
Though as for that the passing there
Had worn them really about the same,
And both that morning equally lay
In leaves no step had trodden black.
Oh, I kept the first for another day!
Yet knowing how way leads on to way
I doubted if I should ever come back.
I shall be telling this with a sigh
Somewhere ages and ages hence:
Two roads diverged in a wood, and I,
I took the one less traveled by,
And that has made all the difference
🔆 Read more Poems