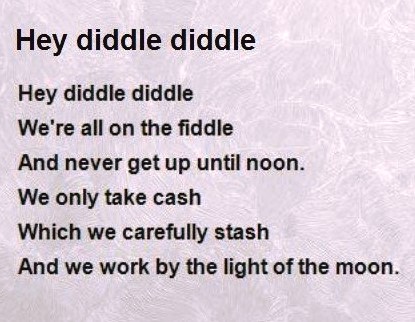 Recursos Educativos en Inglés - Poems in English - Poesías en inglés
The Pig - Roald Dahl
In England once there lived a big
And wonderfully clever pig.
To everybody it was plain
That Piggy had a massive brain.
He worked out sums inside his head,
There was no book he hadn't read.
He knew what made an airplane fly,
He knew how engines worked and why.
He knew all this, but in the end
One question drove him round the bend:
He simply couldn't puzzle out
What LIFE was really all about.
What was the reason for his birth?
Why was he placed upon this earth?
His giant brain went round and round.
Alas, no answer could be found.
Till suddenly one wondrous night.
All in a flash he saw the light.
He jumped up like a ballet dancer
And yelled, 'By gum, I've got the answer! '
'They want my bacon slice by slice
'To sell at a tremendous price!
'They want my tender juicy chops
'To put in all the butcher's shops!
'They want my pork to make a roast
'And that's the part'll cost the most!
'They want my sausages in strings!
'They even want my chitterlings!
'The butcher's shop! The carving knife!
'That is the reason for my life! '
Such thoughts as these are not designed
To give a pig great peace of mind.
Next morning, in comes Farmer Bland,
A pail of pigswill in his hand,
And piggy with a mighty roar,
Bashes the farmer to the floor…
Now comes the rather grisly bit
So let's not make too much of it,
Except that you must understand
That Piggy did eat Farmer Bland,
He ate him up from head to toe,
Chewing the pieces nice and slow.
It took an hour to reach the feet,
Because there was so much to eat,
And when he finished, Pig, of course,
Felt absolutely no remorse.
Slowly he scratched his brainy head
And with a little smile he said,
'I had a fairly powerful hunch
'That he might have me for his lunch.
'And so, because I feared the worst,
'I thought I'd better eat him first.'
The Three Little Pigs - Roald Dahl
The animal I really dig,
Above all others is the pig.
Pigs are noble. Pigs are clever,
Pigs are courteous. However,
Now and then, to break this rule,
One meets a pig who is a fool.
What, for example, would you say,
If strolling through the woods one day,
Right there in front of you you saw
A pig who'd built his house of straw?
The Wolf who saw it licked his lips,
And said, 'That pig has had his chips.'
'Little pig, little pig, let me come in!'
'No, no, by the hairs on my chinny-chin-chin!'
'Then I'll huff and I'll puff and I'll blow your house in!'
The little pig began to pray,
But Wolfie blew his house away.
He shouted, 'Bacon, pork and ham!
Oh, what a lucky Wolf I am!'
And though he ate the pig quite fast,
He carefully kept the tail till last.
Wolf wandered on, a trifle bloated.
Surprise, surprise, for soon he noted
Another little house for pigs,
And this one had been built of twigs!
'Little pig, little pig, let me come in!'
'No, no, by the hairs on my chinny-chin-chin!'
'Then I'll huff and I'll puff and I'll blow your house in!'
The Wolf said, 'Okay, here we go!'
He then began to blow and blow.
The little pig began to squeal.
He cried, 'Oh Wolf, you've had one meal!
Why can't we talk and make a deal?
The Wolf replied, 'Not on your nelly!'
And soon the pig was in his belly.
'Two juicy little pigs!' Wolf cried,
'But still I'm not quite satisfied!
I know how full my tummy's bulging,
But oh, how I adore indulging.'
So creeping quietly as a mouse,
The Wolf approached another house,
A house which also had inside
A little piggy trying to hide.
'You'll not get me!' the Piggy cried.
'I'll blow you down!' the Wolf replied.
'You'll need,' Pig said, 'a lot of puff,
And I don't think you've got enough.'
Wolf huffed and puffed and blew and blew.
The house stayed up as good as new.
'If I can't blow it down,' Wolf said,
I'll have to blow it up instead.
I'll come back in the dead of night
And blow it up with dynamite!'
Pig cried, 'You brute! I might have known!'
Then, picking up the telephone,
He dialed as quickly as he could
The number of red Riding Hood.
'Hello,' she said. 'Who's speaking? Who?
Oh, hello, Piggy, how d'you do?'
Pig cried, 'I need your help, Miss Hood!
Oh help me, please! D'you think you could?'
'I'll try of course,' Miss Hood replied.
'What's on your mind...?' 'A Wolf!' Pig cried.
'I know you've dealt with wolves before,
And now I've got one at my door!'
'My darling Pig,' she said, 'my sweet,
That's something really up my street.
I've just begun to wash my hair.
But when it's dry, I'll be right there.'
A short while later, through the wood,
Came striding brave Miss Riding Hood.
The Wolf stood there, his eyes ablaze,
And yellowish, like mayonnaise.
His teeth were sharp, his gums were raw,
And spit was dripping from his jaw.
Once more the maiden's eyelid flickers.
She draws the pistol from her knickers.
Once more she hits the vital spot,
And kills him with a single shot.
Pig, peeping through the window, stood
And yelled, 'Well done, Miss Riding Hood!'
Ah, Piglet, you must never trust
Young ladies from the upper crust.
For now, Miss Riding Hood, one notes,
Not only has two wolfskin coats,
But when she goes from place to place,
She has a pigskin traveling case.
Cinderella - Roald Dahl
I guess you think you know this story.
You don't. The real one's much more gory.
The phoney one, the one you know,
Was cooked up years and years ago,
And made to sound all soft and sappy
just to keep the children happy.
Mind you, they got the first bit right,
The bit where, in the dead of night,
The Ugly Sisters, jewels and all,
Departed for the Palace Ball,
While darling little Cinderella
Was locked up in a slimy cellar,
Where rats who wanted things to eat,
Began to nibble at her feet.
She bellowed 'Help!' and 'Let me out!
The Magic Fairy heard her shout.
Appearing in a blaze of light,
She said: 'My dear, are you all right?'
'All right?' cried Cindy .'Can't you see
'I feel as rotten as can be!'
She beat her fist against the wall,
And shouted, 'Get me to the Ball!
'There is a Disco at the Palace!
'The rest have gone and I am jealous!
'I want a dress! I want a coach!
'And earrings and a diamond brooch!
'And silver slippers, two of those!
'And lovely nylon panty hose!
'Done up like that I'll guarantee
'The handsome Prince will fall for me!'
The Fairy said, 'Hang on a tick.'
She gave her wand a mighty flick
And quickly, in no time at all,
Cindy was at the Palace Ball!
It made the Ugly Sisters wince
To see her dancing with the Prince.
She held him very tight and pressed
herself against his manly chest.
The Prince himself was turned to pulp,
All he could do was gasp and gulp.
Then midnight struck. She shouted, 'Heck!
I've got to run to save my neck!'
The Prince cried, 'No! Alas! Alack!'
He grabbed her dress to hold her back.
As Cindy shouted, 'Let me go!'
The dress was ripped from head to toe.
She ran out in her underwear,
And lost one slipper on the stair.
The Prince was on it like a dart,
He pressed it to his pounding heart,
'The girl this slipper fits,' he cried,
'Tomorrow morn shall be my bride!
I'll visit every house in town
'Until I've tracked the maiden down!'
Then rather carelessly, I fear,
He placed it on a crate of beer.
At once, one of the Ugly Sisters,
(The one whose face was blotched with blisters)
Sneaked up and grabbed the dainty shoe,
And quickly flushed it down the loo.
Then in its place she calmly put
The slipper from her own left foot.
Ah ha, you see, the plot grows thicker,
And Cindy's luck starts looking sicker.
Next day, the Prince went charging down
To knock on all the doors in town.
In every house, the tension grew.
Who was the owner of the shoe?
The shoe was long and very wide.
(A normal foot got lost inside.)
Also it smelled a wee bit icky.
(The owner's feet were hot and sticky.)
Thousands of eager people came
To try it on, but all in vain.
Now came the Ugly Sisters' go.
One tried it on. The Prince screamed, 'No!'
But she screamed, 'Yes! It fits! Whoopee!
'So now you've got to marry me!'
The Prince went white from ear to ear.
He muttered, 'Let me out of here.'
'Oh no you don't! You made a vow!
'There's no way you can back out now!'
'Off with her head!' The Prince roared back.
They chopped it off with one big whack.
This pleased the Prince. He smiled and said,
'She's prettier without her head.'
Then up came Sister Number Two,
Who yelled, 'Now I will try the shoe!'
'Try this instead!' the Prince yelled back.
He swung his trusty sword and smack
Her head went crashing to the ground.
It bounced a bit and rolled around.
In the kitchen, peeling spuds,
Cinderella heard the thuds
Of bouncing heads upon the floor,
And poked her own head round the door.
'What's all the racket? 'Cindy cried.
'Mind your own bizz,' the Prince replied.
Poor Cindy's heart was torn to shreds.
My Prince! she thought. He chops off heads!
How could I marry anyone
Who does that sort of thing for fun?
The Prince cried, 'Who's this dirty slut?
'Off with her nut! Off with her nut!'
Just then, all in a blaze of light,
The Magic Fairy hove in sight,
Her Magic Wand went swoosh and swish!
'Cindy! 'she cried, 'come make a wish!
'Wish anything and have no doubt
'That I will make it come about!'
Cindy answered, 'Oh kind Fairy,
'This time I shall be more wary.
'No more Princes, no more money.
'I have had my taste of honey.
I'm wishing for a decent man.
'They're hard to find. D'you think you can?'
Within a minute, Cinderella
Was married to a lovely feller,
A simple jam maker by trade,
Who sold good home-made marmalade.
Their house was filled with smiles and laughter
And they were happy ever after.
🔆 Read more Poems