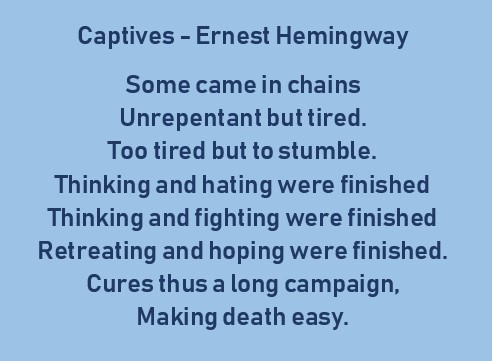 Recursos Educativos en Inglés - Poems in English - Poesías en inglés
Advice To A Son - Ernest Hemingway
Never trust a white man,
Never kill a Jew,
Never sign a contract,
Never rent a pew.
Don't enlist in armies;
Nor marry many wives;
Never write for magazines;
Never scratch your hives.
Always put paper on the seat,
Don't believe in wars,
Keep yourself both clean and neat,
Never marry whores.
Never pay a blackmailer,
Never go to law,
Never trust a publisher,
Or you'll sleep on straw.
All your friends will leave you
All your friends will die
So lead a clean and wholesome life
And join them in the sky.
Along With Youth - Ernest Hemingway
A porcupine skin,
Stiff with bad tanning,
It must have ended somewhere.
Stuffed horned owl
Pompous
Yellow eyed;
Chuck-wills-widow on a biased twig
Sooted with dust.
Piles of old magazines,
Drawers of boy's letters
And the line of love
They must have ended somewhere.
Yesterday's Tribune is gone
Along with youth
And the canoe that went to pieces on the beach
The year of the big storm
When the hotel burned down
At Seney, Michigan.
The Age Demanded - Ernest Hemingway
The age demanded that we sing
And cut away our tongue.
The age demanded that we flow
And hammered in the bung.
The age demanded that we dance
And jammed us into iron pants.
And in the end the age was handed
The sort of shit that it demanded.
Captives - Ernest Hemingway
Some came in chains
Unrepentant but tired.
Too tired but to stumble.
Thinking and hating were finished
Thinking and fighting were finished
Retreating and hoping were finished.
Cures thus a long campaign,
Making death easy.
I Like Canadians - Ernest Hemingway
I like Canadians.
They are so unlike Americans.
They go home at night.
Their cigarettes don't smell bad.
Their hats fit.
They really believe that they won the war.
They don't believe in Literature.
They think Art has been exaggerated.
But they are wonderful on ice skates.
A few of them are very rich.
But when they are rich they buy more horses
Than motor cars.
Chicago calls Toronto a puritan town.
But both boxing and horse-racing are illegal
In Chicago.
Nobody works on Sunday.
Nobody.
That doesn't make me mad.
There is only one Woodbine.
But were you ever at Blue Bonnets?
If you kill somebody with a motor car in Ontario
You are liable to go to jail.
So it isn't done.
There have been over 500 people killed by motor cars
In Chicago
So far this year.
It is hard to get rich in Canada.
But it is easy to make money.
There are too many tea rooms.
But, then, there are no cabarets.
If you tip a waiter a quarter
He says 'Thank you.'
Instead of calling the bouncer.
They let women stand up in the street cars.
Even if they are good-looking.
They are all in a hurry to get home to supper
And their radio sets.
They are a fine people.
I like them.
🔆 Read more Poems