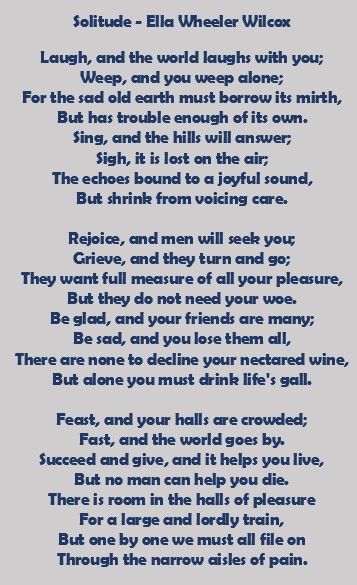 Recursos Educativos en Inglés - Poems in English - Poesías en inglés
I Love You - Ella Wheeler Wilcox
I love your lips when they're wet with wine
And red with a wild desire;
I love your eyes when the lovelight lies
Lit with a passionate fire.
I love your arms when the warm white flesh
Touches mine in a fond embrace;
I love your hair when the strands enmesh
Your kisses against my face.
Not for me the cold, calm kiss
Of a virgin's bloodless love;
Not for me the saint's white bliss,
Nor the heart of a spotless dove.
But give me the love that so freely gives
And laughs at the whole world's blame,
With your body so young and warm in my arms,
It sets my poor heart aflame.
So kiss me sweet with your warm wet mouth,
Still fragrant with ruby wine,
And say with a fervor born of the South
That your body and soul are mine.
Clasp me close in your warm young arms,
While the pale stars shine above,
And we'll live our whole young lives away
In the joys of a living love.
A Naughty Little Comet - Ella Wheeler Wilcox
There was a little comet who lived near the Milky Way!
She loved to wander out at night and jump about and play.
The mother of the comet was a very good old star;
She used to scold her reckless child for venturing out too far.
She told her of the ogre, Sun, who loved on stars to sup,
And who asked no better pastime than in gobbling comets up.
But instead of growing cautious and of showing proper fear,
The foolish little comet edged up nearer, and more near.
She switched her saucy tail along right where the Sun could see,
And flirted with old Mars, and was as bold as bold could be.
She laughed to scorn the quiet stars who never frisked about;
She said there was no fun in life unless you ventured out.
She liked to make the planets stare, and wished no better mirth
Than just to see the telescopes aimed at her from the Earth.
She wondered how so many stars could mope through nights and days,
And let the sickly faced old Moon get all the love and praise.
And as she talked and tossed her head and switched her shining trail
The staid old mother star grew sad, her cheek grew wan and pale.
For she had lived there in the skies a million years or more,
And she had heard gay comets talk in just this way before.
And by and by there came an end to this gay comet's fun.
She went a tiny bit too far-and vanished in the Sun!
No more she swings her shining trail before the whole world's sight,
But quiet stars she laughed to scorn are twinkling every night.
Life's Scars - Ella Wheeler Wilcox
They say the world is round, and yet
I often think it square,
So many little hurts we get
From corners here and there.
But one great truth in life I've found,
While journeying to the West-
The only folks who really wound
Are those we love the best.
The man you thoroughly despise
Can rouse your wrath, 'tis true;
Annoyance in your heart will rise
At things mere strangers do;
But those are only passing ills;
This rule all lives will prove;
The rankling wound which aches and thrills
Is dealt by hands we love.
The choicest garb, the sweetest grace,
Are oft to strangers shown;
The careless mien, the frowning face,
Are given to our own.
We flatter those we scarcely know,
We please the fleeting guest,
And deal full many a thoughtless blow
To those who love us best.
Love does not grow on every tree,
Nor true hearts yearly bloom.
Alas for those who only see
This cut across a tomb!
But, soon or late, the fact grows plain
To all through sorrow's test:
The only folks who give us pain
Are those we love the best.
The Little White Hearse - Ella Wheeler Wilcox
Somebody's baby was buried to-day
The empty white hearse from the grave rumbled back,
And the morning somehow seemed less smiling and gay
As I paused on the walk while it crossed on its way,
And a shadow seemed drawn o'er the sun's golden track.
Somebody's baby was laid out to rest,
White as a snowdrop, and fair to behold,
And the soft little hands were crossed over the breast,
And those hands and the lips and the eyelids were pressed
With kisses as hot as the eyelids were cold.
Somebody saw it go out of her sight,
Under the coffin lid--out through the door;
Somebody finds only darkness and blight
All through the glory of summer-sun light;
Somebody's baby will waken no more.
Somebody's sorrow is making me weep:
I know not her name, but I echo her cry,
For the dearly bought baby she longed so to keep,
The baby that rode to its long-lasting sleep
In the little white hearse that went rumbling by.
I know not her name, but her sorrow I know;
While I paused on the crossing I lived it once more,
And back to my heart surged that river of woe
That but in the breast of a mother can flow;
For the little white hearse has been, too, at my door.
🔆 Read more Poems