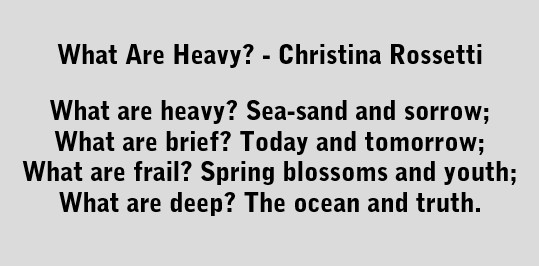 Recursos Educativos en Inglés - Poems in English - Poesías en inglés
What Is Pink? - Christina Rossetti
What is pink? A rose is pink
By the fountain's brink.
What is red? A poppy's red
In its barley bed.
What is blue? The sky is blue
Where the clouds float through.
What is white? A swan is white
Sailing in the light.
What is yellow? Pears are yellow,
Rich and ripe and mellow.
What is green? The grass is green,
With small flowers between.
What is violet? Clouds are violet
In the summer twilight.
What is orange? Why, an orange,
Just an orange!
Echo - Christina Rossetti
Come to me in the silence of the night;
Come in the speaking silence of a dream;
Come with soft rounded cheeks and eyes as bright
As sunlight on a stream;
Come back in tears,
O memory, hope, love of finished years.
O dream how sweet, too sweet, too bitter sweet,
Whose wakening should have been in Paradise,
Where souls brimfull of love abide and meet;
Where thirsting longing eyes
Watch the slow door
That opening, letting in, lets out no more.
Yet come to me in dreams, that I may live
My very life again though cold in death:
Come back to me in dreams, that I may give
Pulse for pulse, breath for breath:
Speak low, lean low
As long ago, my love, how long ago.
What Are Heavy? - Christina Rossetti
What are heavy? Sea-sand and sorrow;
What are brief? Today and tomorrow;
What are frail? Spring blossoms and youth;
What are deep? The ocean and truth.
Remember - Christina Rossetti
Remember me when I am gone away,
Gone far away into the silent land;
When you can no more hold me by the hand,
Nor I half turn to go yet turning stay.
Remember me when no more day by day
You tell me of our future that you plann'd:
Only remember me; you understand
It will be late to counsel then or pray.
Yet if you should forget me for a while
And afterwards remember, do not grieve:
For if the darkness and corruption leave
A vestige of the thoughts that once I had,
Better by far you should forget and smile
Than that you should remember and be sad.
🔆 Read more Poems