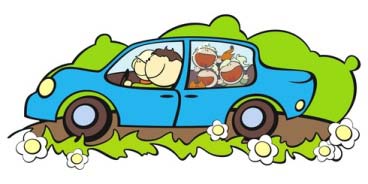 Recursos Educativos en inglés
By car
¿Dónde hay un garaje cerca? ¿Podría dejar el coche aquí ... días?
Which is the nearest garage? May I leave my car here for ... days?
¿Cuál es la tarifa por hora?
How much do you charge for an hour?
¿Dónde puedo alquilar un coche?
Where can I hire a car?
Necesito un coche ... días.
I need a car for ... days
¿Cuánto cuesta el alquiler al día?
How much do you charge for one day?
Lleno de super (normal, sin plomo), por favor.
Please fill my tank with petrol (premium, normal, unleaded).
¿Me puede controlar el nivel del agua (del aceite) y la presión de los neumáticos?
Could you please check the level of the water (of the oil) and the pressure of the tyres?
¿Por dónde se va a ...?
How do I get to the road for ...?
¿Está muy lejos la entrada de la autopista a ...?
Is the entrance to the motorway for ... very far?
¿Es una autopista con peaje?
Is It a toll road?
¿A que distancia hay una estación de servicio?
How far is the fuelling station?
Estoy buscando un taller de reparaciones.
I am looking for a workshop.
Aceite - oil
Acelerador - accelerator
Agua - water
Amortiguador - shock-absorber
Antihielo - antifreeze
asiento - seat
Batería - battery
Bujía - sparking plug
Carburador - carburettor
Carné de conducir - driving licence
Conducir - drive
Correa - belt
Embrague - clutch
Espejo retrovisor - rearview mirror
Faro - light
Filtro - filter
Freno - brake
Gasolina - petrol
Limpiacristales - windscreen wiper
Lubricante - lubricant
Maletero - boot
Matrícula - number plate
Motor - engine
Parabrisas - windshield
Parachoques - bumper
Radiador - radiator
Rueda - wheel
Tubo de escape - exhaust pipe
Volante - steering wheel