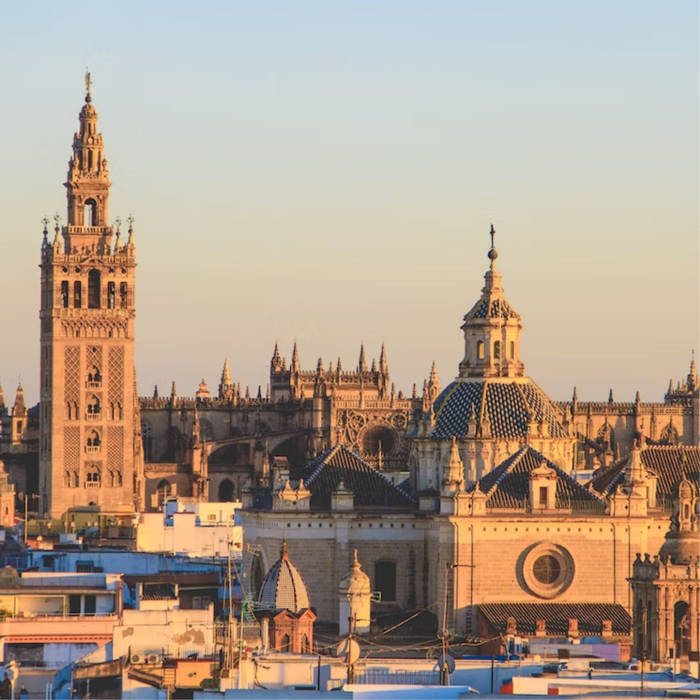 🌟 Un Whirlwind Tour Through Sevilla in 6 Hours! 🌟
Welcome, travel enthusiasts, to one of the most breathtaking and vibrant cities in Spain - Sevilla! Whether you're a history buff, a food lover, or simply eager to immerse yourself in rich culture, Sevilla has something special to offer. And guess what? We're going to make the most out of it in just 6 hours! 😎 So, fasten your seatbelts and let's embark on an unforgettable adventure!
🏰 9:00 AM - Start at the Heart of Sevilla: The Alcazar 🏰
Our journey begins at the Alcazar, a UNESCO World Heritage site, and a true gem of Moorish architecture. As you wander through its enchanting gardens and intricate halls, you'll feel like you've stepped back in time. Channel your inner royalty, as you explore the rooms where actual kings and queens once roamed! 🏰👑 Don't forget your camera - this place is a photographer's dream come true!
🍊 10:30 AM - A Slice of History at the Seville Cathedral 🍊
Next stop: the Seville Cathedral, the largest Gothic cathedral in the world! 🌍 Brace yourself for a jaw-dropping encounter with its soaring ceilings, awe-inspiring stained glass windows, and the majestic Giralda bell tower. 🛎️ Climb to the top of the Giralda for a stunning panoramic view of Sevilla - it's worth the effort, promise!
☕ 11:45 AM - Time for a Refreshing Break ☕
After exploring the Alcazar and the Cathedral, you deserve a little break. Head to a local café to savor some traditional Andalusian delights. 😋 Indulge in churros dipped in thick, velvety chocolate, or try the refreshing orange-infused treats that Sevilla is famous for - they'll keep you energized for the rest of the journey! 🍫🍊
🐦 12:30 PM - Embrace the Charming Barrio Santa Cruz 🐦
Now, it's time to wander through the captivating alleys of Barrio Santa Cruz. Lose yourself in the maze-like streets filled with charming white-washed buildings, lively squares, and the sound of flamenco music echoing in the air. 🎶 Unearth hidden corners, snap Instagram-worthy shots, and feel the palpable history and passion that flows through these ancient streets.
🍤 1:30 PM - Delight in Delectable Tapas for Lunch 🍤
Sevilla is famous for its tapas culture, and it's an essential part of any visit here! 🍻 Head to a traditional tapas bar to sample a variety of small dishes bursting with flavors. Try the savory Iberian ham, the mouthwatering patatas bravas, and the delightful spinach and chickpeas stew. Wash it all down with a glass of refreshing sangria or a local beer - you're in for a treat! 🍷🍻
⛪ 2:30 PM - Unveil History at Casa de Pilatos ⛪
Prepare to be amazed as you step into the Casa de Pilatos, a stunning blend of Renaissance, Mudejar, and Gothic architecture. 🏰 This hidden gem is often overshadowed by the Alcazar, but its beauty is equally captivating. Take your time to explore the meticulously designed rooms, serene patios, and intricate tilework - you'll feel like you've wandered into a historical fairy tale!
🚂 3:30 PM - A Scenic Boat Ride along the Guadalquivir River 🚂
Hop on a boat and set sail along the tranquil Guadalquivir River that gracefully winds through the city. 🚤 Relax and enjoy the picturesque views of the iconic Triana Bridge, the vibrant riverside promenade, and the skyline adorned with architectural wonders. It's the perfect way to catch your breath while taking in the essence of Sevilla's beauty.
🏟️ 4:30 PM - Revel at the Metropol Parasol 🏟️
Our final stop is the modern architectural marvel, the Metropol Parasol, also known as "Las Setas." 🍄 This wooden structure offers an impressive panoramic view of the city and a refreshing shade from the Andalusian sun. It's the ideal spot to reflect on the whirlwind of experiences you've had throughout the day! 🌞
🎉 5:30 PM - Farewell, Sevilla! 🎉
With a heart full of cherished memories and a camera loaded with captivating snapshots, it's time to bid adieu to this unforgettable city. But fear not - Sevilla will always be here to welcome you back with open arms. 💕 Until next time, happy travels and may your adventures never cease!
Remember, this 6-hour whirlwind tour only scratches the surface of what Sevilla has to offer. If you have more time, delve deeper into its rich tapestry of history, arts, and culture - you won't be disappointed!
Safe travels and hasta luego, amigo! 👋✈️🌍