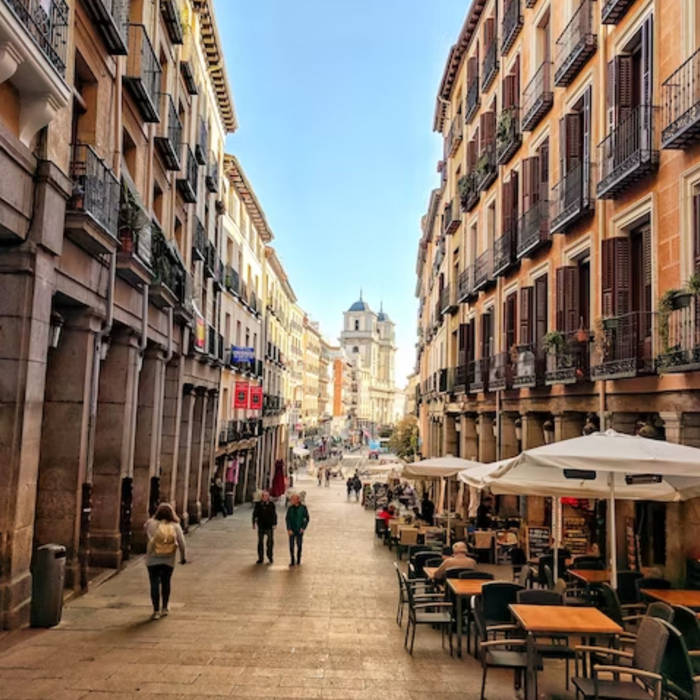 🌟 Experience the Magic of Madrid in 24 Hours! 🌟
Welcome, my fellow wanderer, to the enchanting city of Madrid, where history meets modernity and vibrant culture fills the streets. In just 24 hours, I promise to show you the very best this magnificent city has to offer. So, let's dive right into this whirlwind adventure, exploring iconic landmarks, savoring delicious cuisine, and immersing ourselves in the lively Spanish spirit. Get ready for an unforgettable experience! 🥳
⏰ Morning (8:00 AM - 11:00 AM) - Rise and Shine! ☀️
📍 Start your day at the iconic Plaza Mayor, the heart of Madrid. This stunning square will transport you back in time with its charming architecture and bustling atmosphere. Grab a cup of café con leche and a delicious churro from a nearby café, and take a moment to savor the beginning of an epic day.
📍 After your energizing breakfast, head towards the magnificent Royal Palace, the official residence of the Spanish Royal Family. Although you may not have time to explore every room, the exteriors alone are a feast for the eyes. 🏰 Don't forget to snap some Instagram-worthy shots!
📍 A short walk away lies the Almudena Cathedral, a neo-Gothic masterpiece that will leave you in awe of its grandeur. Take a moment to step inside and admire the intricate details and beautiful stained glass windows.
⏰ Mid-Morning (11:00 AM - 1:00 PM) - Stroll Through History 🚶‍♂️🚶‍♀️
📍 Time to wander through the historic district of La Latina. 🏛️ Lose yourself in its narrow, winding streets, filled with charming cafés, local boutiques, and hidden gems. Be sure to check out Mercado de la Cebada, a bustling market where locals gather to shop for fresh produce and indulge in tasty tapas.
📍 A visit to Madrid wouldn't be complete without exploring the world-famous Prado Museum. 🖼️ Immerse yourself in the works of art by renowned Spanish artists like Velázquez, Goya, and El Greco. Don't rush; take your time to appreciate these masterpieces.
⏰ Lunchtime (1:00 PM - 2:30 PM) - A Gastronomic Delight! 🍽️
📍 Head to the Mercado de San Miguel, a gourmet paradise where you can treat yourself to a variety of Spanish delicacies. From savory Jamón ibérico to delectable seafood paella, your taste buds are in for a treat! Wash it all down with a glass of refreshing sangría.
⏰ Afternoon (2:30 PM - 6:00 PM) - Majestic Parks and Shopping Extravaganza 🛍️
📍 Time to burn off those lunch calories with a leisurely stroll through the picturesque Retiro Park. 🌳 Find a cozy spot by the boating lake, rent a rowboat, and bask in the serenity of this urban oasis.
📍 Next, let's indulge in some retail therapy on Gran Vía, Madrid's famous shopping street. 🛒 From high-end boutiques to trendy stores, you'll find everything you desire. Don't forget to step into El Corte Inglés, Spain's largest department store, where you'll find an array of souvenirs and fashionable goods.
⏰ Evening (6:00 PM - 8:00 PM) - Tapas, Flamenco, and Spanish Passion! 💃🕺
📍 As the sun sets, venture into the lively neighborhood of La Latina, where tapas bars line the streets. 🍻 Hop from one bar to another, sampling delectable tapas like patatas bravas, tortilla española, and croquetas. Embrace the Spanish tradition of "tapeo."
📍 After satisfying your taste buds, it's time to experience the soul-stirring art of Flamenco. Head to a local tablao, where passionate dancers and musicians will whisk you away to the heart of Spanish culture. Olé! 👏
⏰ Night (8:00 PM onwards) - A Night to Remember! 🌃🌙
📍 End your whirlwind day at the vibrant Puerta del Sol, a lively square where locals and visitors gather to celebrate life. 🎉 Admire the stunning night view and join in the festive atmosphere. If you're lucky, you might witness the enchanting tradition of the "Twelve Grapes," where people eat grapes at each chime of the clock to welcome the New Year.
Madrid, with its rich history, warm locals, and boundless energy, will leave an indelible mark on your heart. 🥰 Whether you're exploring the grandeur of its palaces, savoring its delectable cuisine, or immersing yourself in its passionate culture, you'll find that 24 hours in Madrid is a journey like no other.
Remember, this itinerary only scratches the surface of what Madrid has to offer. So, don't be afraid to come back and dive deeper into this fascinating city whenever you can! Until next time, happy travels! 🌍✈️📸