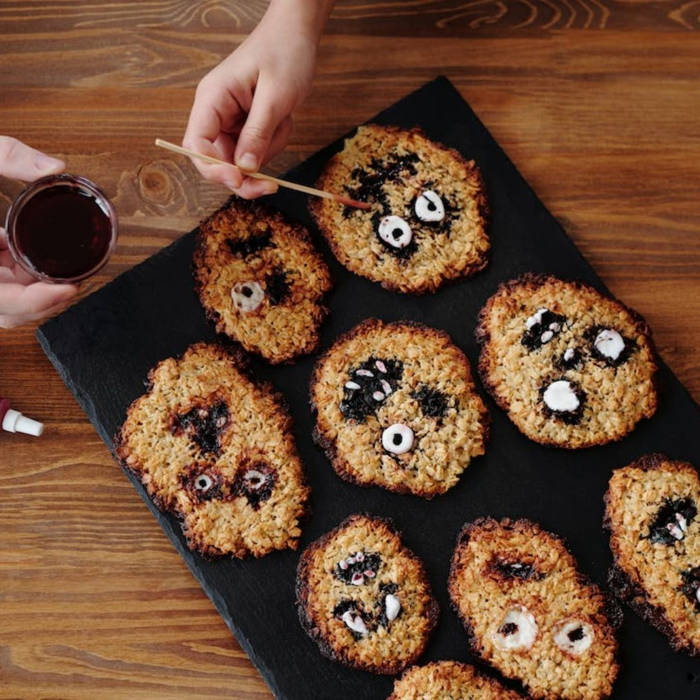 Get Ready for a Spooktacular Feast! Halloween-Themed Food Recipes 🎃
Hey there, all you ghouls and goblins of the United States! 🇺🇸 Are you ready to take your Halloween celebration to the next level? Forget the same old candy and pumpkins; it's time to prepare a Halloween banquet that will send shivers down your spine and delight your taste buds. In this eerie and exciting article, we're going to unveil some spine-tingling Halloween-themed recipes that will make your party a monster hit!
👻 The Haunting Appetizers 👻
1. Mummy Hot Dogs
Ingredients:

Hot dogs
Crescent roll dough
Mustard or ketchup

Instructions:

Wrap hot dogs in strips of crescent roll dough to create mummy-like bandages.
Bake until golden brown.
Add mustard or ketchup for mummy eyes.
2. Deviled Spider Eggs
Ingredients:

Hard-boiled eggs
Mayonnaise
Mustard
Black olives

Instructions:

Cut the eggs in half and remove yolks.
Mix yolks with mayo and mustard, then fill egg whites.
Use sliced black olives as spider bodies and legs.
3. Witch's Broomstick Snacks
Ingredients:

Pretzel sticks
String cheese
Chives

Instructions:

Cut string cheese into thin strips.
Make small cuts at one end and insert a pretzel stick to create a broomstick.
Tie a chive around the top for a spooky finish.
🎃 Creepy Main Courses 🎃
4. Jack-O'-Lantern Stuffed Peppers
Ingredients:

Bell peppers
Ground meat or meat substitute
Rice
Tomato sauce

Instructions:

Carve faces on the bell peppers.
Cook rice and meat, mix with sauce.
Stuff peppers and bake until tender.
5. Monster Eyeball Meatballs
Ingredients:

Meatballs
Mozzarella cheese
Black olives

Instructions:

Cut cheese into small circles for the eyes.
Place sliced olives in the center of each cheese circle.
Stick the "eyeballs" onto the meatballs.
6. Brain Mac and Cheese
Ingredients:

Macaroni and cheese
Red food coloring

Instructions:

Tint your mac and cheese with red food coloring to give it a brain-like appearance.
Serve in a brain-shaped mold or dish for extra creepiness.
🦇 Spine-Chilling Desserts 🦇
7. Spider Web Cupcakes
Ingredients:

Cupcakes
White icing
Black icing

Instructions:

Frost cupcakes with white icing.
Use black icing to create a spider web design on top.
8. Candy Corn Pudding Parfait
Ingredients:

Vanilla pudding
Orange and yellow food coloring
Whipped cream

Instructions:

Separate pudding into three bowls.
Dye one bowl orange, one yellow, and leave one white.
Layer the colors in a glass for a candy corn effect.
9. Witches' Brew Punch
Ingredients:

Green fruit punch
Lemon-lime soda
Lime sherbet

Instructions:

Mix green fruit punch with lemon-lime soda.
Add scoops of lime sherbet for a bubbling cauldron effect.
🕷️ Eerie Extras 🕷️
10. Caramel Apple Monsters
Ingredients:
Apples
Caramel sauce
Mini chocolate chips
Slivered almonds
Instructions:
Dip apples in caramel.
Stick on chocolate chip eyes and almond fangs.
11. Witches' Fingers Breadsticks
Ingredients:
Breadstick dough
Almond slices
Red food coloring
Instructions:
Shape dough into finger-like sticks.
Press an almond slice at the tip for a nail.
Dye the end with red food coloring for a bloody effect.
Now that you've got a spooktacular menu lined up, don't forget to set the mood with eerie decorations and costumes. Cobwebs, pumpkins, and flickering candles are your best friends. And for costumes, consider dressing up as your favorite horror movie characters or classic monsters.
Make sure to capture the moments by snapping photos of your chilling creations and share them on social media with the hashtag #HalloweenFeast. Who knows, your terrifying treats might just go viral!
Remember, Halloween is all about having fun and getting a little spooky. Whether you're hosting a big bash or a cozy gathering with friends and family, these Halloween-themed recipes will leave everyone howling for more. So, go ahead, put on your witch's hat, and start cooking up a feast that's to die for! 🧙‍♀️🍽️
In conclusion, preparing a Halloween banquet that's both delicious and spine-tingling is easier than you think. With these creative and easy-to-follow recipes, you'll have everyone at your Halloween party screaming with delight. So, get your cauldron bubbling and your broomsticks flying – it's time to whip up a feast that's frighteningly good! 🎃👻🕷️
And remember, the most important ingredient in all of this is a dash of spooky spirit and a pinch of imagination. Happy Halloween, my fellow Halloween enthusiasts! 🦇🌕🕯️