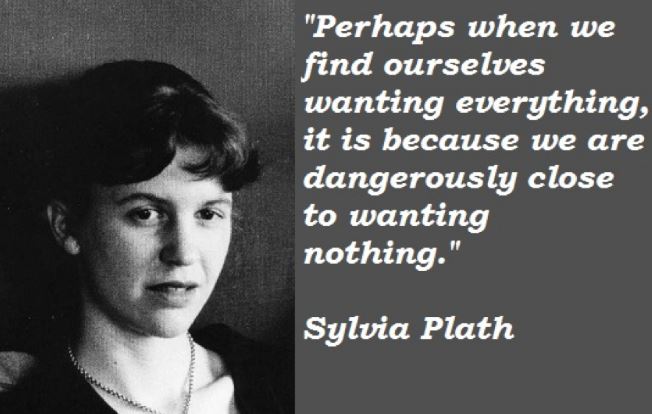 Recursos Educativos en Inglés - Poems in English - Poesías en inglés
Mirror - Sylvia Plath
I am silver and exact. I have no preconceptions.
Whatever I see I swallow immediately
Just as it is, unmisted by love or dislike.
I am not cruel, only truthful,
The eye of a little god, four-cornered.
Most of the time I meditate on the opposite wall.
It is pink, with speckles. I have looked at it so long
I think it is part of my heart. But it flickers.
Faces and darkness separate us over and over.
Now I am a lake. A woman bends over me,
Searching my reaches for what she really is.
Then she turns to those liars, the candles or the moon.
I see her back, and reflect it faithfully.
She rewards me with tears and an agitation of hands.
I am important to her. She comes and goes.
Each morning it is her face that replaces the darkness.
In me she has drowned a young girl, and in me an old woman
Rises toward her day after day, like a terrible fish.
Circus In Three Rings - Sylvia Plath
In the circus tent of a hurricane
designed by a drunken god
my extravagant heart blows up again
in a rampage of champagne-colored rain
and the fragments whir like a weather vane
while the angels all applaud.
Daring as death and debonair
I invade my lion's den;
a rose of jeopardy flames in my hair
yet I flourish my whip with a fatal flair
defending my perilous wounds with a chair
while the gnawings of love begin.
Mocking as Mephistopheles,
eclipsed by magician's disguise,
my demon of doom tilts on a trapeze,
winged rabbits revolving about his knees,
only to vanish with devilish ease
in a smoke that sears my eyes.
Aerialist - Sylvia Plath
Each night, this adroit young lady
Lies among sheets
Shredded fine as snowflakes
Until dream takes her body
From bed to strict tryouts
In tightrope acrobatics.
Nightly she balances
Cat-clever on perilous wire
In a gigantic hall,
Footing her delicate dances
To whipcrack and roar
Which speak her maestro's will.
Gilded, coming correct
Across that sultry air,
She steps, halts, hung
In dead center of her act
As great weights drop all about her
And commence to swing.
Lessoned thus, the girl
Parries the lunge and menace
Of every pendulum;
By deft duck and twirl
She draws applause; bright harness
Bites keen into each brave limb
Then, this tough stint done, she curtsies
And serenely plummets down
To traverse glass floor
And get safe home; but, turning with trained eyes,
Tiger-tamer and grinning clown
Squat, bowling black balls at her.
Tall trucks roll in
With a thunder like lions; all aims
And lumbering moves.
Ariel
Stasis in darkness.
Then the substanceless blue
Pour of tor and distances.
God's lioness,
How one we grow,
Pivot of heels and knees!—The furrow
Splits and passes, sister to
The brown arc
Of the neck I cannot catch,
Nigger-eye
Berries cast dark
Hooks—
Black sweet blood mouthfuls,
Shadows.
Something else
Hauls me through air—
Thighs, hair;
Flakes from my heels.
White
Godiva, I unpeel—
Dead hands, dead stringencies.
And now I
Foam to wheat, a glitter of seas.
The child's cry
Melts in the wall.
And I
Am the arrow,
The dew that flies
Suicidal, at one with the drive
Into the red
Eye, the cauldron of morning.
Blackberrying
Nobody in the lane, and nothing, nothing but blackberries,
Blackberries on either side, though on the right mainly,
A blackberry alley, going down in hooks, and a sea
Somewhere at the end of it, heaving. Blackberries
Big as the ball of my thumb, and dumb as eyes
Ebon in the hedges, fat
With blue-red juices. These they squander on my fingers.
I had not asked for such a blood sisterhood; they must love me.
They accommodate themselves to my milkbottle, flattening their sides.
Overhead go the choughs in black, cacophonous flocks—
Bits of burnt paper wheeling in a blown sky.
Theirs is the only voice, protesting, protesting.
I do not think the sea will appear at all.
The high, green meadows are glowing, as if lit from within.
I come to one bush of berries so ripe it is a bush of flies,
Hanging their bluegreen bellies and their wing panes in a Chinese screen.
The honey-feast of the berries has stunned them; they believe in heaven.
One more hook, and the berries and bushes end.
The only thing to come now is the sea.
From between two hills a sudden wind funnels at me,
Slapping its phantom laundry in my face.
These hills are too green and sweet to have tasted salt.
I follow the sheep path between them. A last hook brings me
To the hills' northern face, and the face is orange rock
That looks out on nothing, nothing but a great space
Of white and pewter lights, and a din like silversmiths
Beating and beating at an intractable metal.
Daddy
You do not do, you do not do
Any more, black shoe
In which I have lived like a foot
For thirty years, poor and white,
Barely daring to breathe or Achoo.
Daddy, I have had to kill you.
You died before I had time——
Marble-heavy, a bag full of God,
Ghastly statue with one gray toe
Big as a Frisco seal
And a head in the freakish Atlantic
Where it pours bean green over blue
In the waters off beautiful Nauset.
I used to pray to recover you.
Ach, du.
In the German tongue, in the Polish town
Scraped flat by the roller
Of wars, wars, wars.
But the name of the town is common.
My Polack friend
Says there are a dozen or two.
So I never could tell where you
Put your foot, your root,
I never could talk to you.
The tongue stuck in my jaw.
It stuck in a barb wire snare.
Ich, ich, ich, ich,
I could hardly speak.
I thought every German was you.
And the language obscene
An engine, an engine
Chuffing me off like a Jew.
A Jew to Dachau, Auschwitz, Belsen.
I began to talk like a Jew.
I think I may well be a Jew.
The snows of the Tyrol, the clear beer of Vienna
Are not very pure or true.
With my gipsy ancestress and my weird luck
And my Taroc pack and my Taroc pack
I may be a bit of a Jew.
I have always been scared of you,
With your Luftwaffe, your gobbledygoo.
And your neat mustache
And your Aryan eye, bright blue.
Panzer-man, panzer-man, O You——
Not God but a swastika
So black no sky could squeak through.
Every woman adores a Fascist,
The boot in the face, the brute
Brute heart of a brute like you.
You stand at the blackboard, daddy,
In the picture I have of you,
A cleft in your chin instead of your foot
But no less a devil for that, no not
Any less the black man who
Bit my pretty red heart in two.
I was ten when they buried you.
At twenty I tried to die
And get back, back, back to you.
I thought even the bones would do.
But they pulled me out of the sack,
And they stuck me together with glue.
And then I knew what to do.
I made a model of you,
A man in black with a Meinkampf look
And a love of the rack and the screw.
And I said I do, I do.
So daddy, I'm finally through.
The black telephone's off at the root,
The voices just can't worm through.
If I've killed one man, I've killed two——
The vampire who said he was you
And drank my blood for a year,
Seven years, if you want to know.
Daddy, you can lie back now.
There's a stake in your fat black heart
And the villagers never liked you.
They are dancing and stamping on you.
They always knew it was you.
Daddy, daddy, you bastard, I'm through.
🔆 Read more Poems