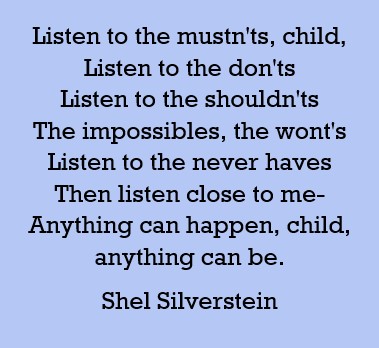 Recursos Educativos en Inglés - Poems in English - Poesías en inglés
Listen To The mustn'ts - Shel Silverstein
Listen to the mustn'ts, child,
Listen to the don'ts
Listen to the shouldn'ts
The impossibles, the wont's
Listen to the never haves
Then listen close to me-
Anything can happen, child,
anything can be
Hug O' War - Shel Silverstein
I will not play at tug o' war.
I'd rather play at hug o' war,
Where everyone hugs
Instead of tugs,
Where everyone giggles
And rolls on the rug,
Where everyone kisses,
And everyone grins,
And everyone cuddles,
And everyone wins
Snowball - Shel Silverstein
I made myself a snowball
As perfect as could be.
I thought I'd keep it as a pet
And let it sleep with me.
I made it some pajamas
And a pillow for its head.
Then last night it ran away,
But first it wet the bed.
The Little Boy And Old Man - Shel Silverstein
Said the little boy, sometimes I drop my spoon.
Said the little old man, I do that too.
The little boy whispered, I wet my pants.
I do too, laughed the old man.
Said the little boy, I often cry.
The old man nodded. So do I.
But worst of all, said the boy,
it seems grown-ups don't pay attention to me.
And he felt the warmth of a wrinkled old hand.
I know what you mean, said the little old man.
Sick - Shel Silverstein
"I cannot go to school today,"
Said little Peggy Ann McKay.
"I have the measles and the mumps,
A gash, a rash and purple bumps.
My mouth is wet, my throat is dry,
I'm going blind in my right eye.
My tonsils are as big as rocks,
I've counted sixteen chicken pox
And there's one more--that's seventeen,
And don't you think my face looks green?
My leg is cut--my eyes are blue--
It might be instamatic flu.
I cough and sneeze and gasp and choke,
I'm sure that my left leg is broke--
My hip hurts when I move my chin,
My belly button's caving in,
My back is wrenched, my ankle's sprained,
My 'pendix pains each time it rains.
My nose is cold, my toes are numb.
I have a sliver in my thumb.
My neck is stiff, my voice is weak,
I hardly whisper when I speak.
My tongue is filling up my mouth,
I think my hair is falling out.
My elbow's bent, my spine ain't straight,
My temperature is one-o-eight.
My brain is shrunk, I cannot hear,
There is a hole inside my ear.
I have a hangnail, and my heart is--what?
What's that? What's that you say?
You say today is... Saturday?
G'bye, I'm going out to play!"
🔆 Read more Poems