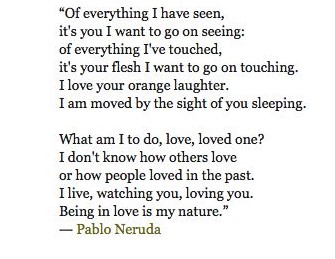 Recursos Educativos en Inglés - Pablo Neruda - Poems in English
Poesías en inglés
If You Forget Me - Pablo Neruda
I want you to know
one thing.
You know how this is:
if I look
at the crystal moon, at the red branch
of the slow autumn at my window,
if I touch
near the fire
the impalpable ash
or the wrinkled body of the log,
everything carries me to you,
as if everything that exists,
aromas, light, metals,
were little boats
that sail
toward those isles of yours that wait for me.
Well, now,
if little by little you stop loving me
I shall stop loving you little by little.
If suddenly
you forget me
do not look for me,
for I shall already have forgotten you.
If you think it long and mad,
the wind of banners
that passes through my life,
and you decide
to leave me at the shore
of the heart where I have roots,
remember
that on that day,
at that hour,
I shall lift my arms
and my roots will set off
to seek another land.
But
if each day,
each hour,
you feel that you are destined for me
with implacable sweetness,
if each day a flower
climbs up to your lips to seek me,
ah my love, ah my own,
in me all that fire is repeated,
in me nothing is extinguished or forgotten,
my love feeds on your love, beloved,
and as long as you live it will be in your arms
without leaving mine.
Lone Gentleman - Pablo Neruda
The gay young men and the love-sick girls,
and the abandoned widows suffering in sleepless delirium,
and the young pregnant wives of thirty hours,
and the raucous cats that cruise my garden in the shadows,
like a necklace of pulsating oysters of sex
surround my lonely residence,
like enemies lined up against my soul,
like conspirators in bedroom clothes
who exchange long deep kisses to order.
The radiant summer leads to lovers
in predictable melancholic regiments,
made of fat and skinny, sad and happy pairings:
under the elegant coconut palms, near the ocean and the moon,
goes an endless movement of trousers and dresses,
a whisper of silk stockings being caressed,
and womens breasts that sparkle like eyes.
The little employee, after it all,
after the weeks boredom, and novels read by night in bed,
has definitively seduced the girl next door,
and carried her away to a run-down movie house
where the heroes are studs or princes mad with passion,
and strokes her legs covered with soft down
with his moist and ardent hands that smell of cigarettes.
The seducers afternoons and married peoples nights
come together like the sheets and bury me,
and the hours after lunch when the young male students
and the young girl students, and the priests, masturbate,
and the creatures fornicate outright,
and the bees smell of blood, and the flies madly buzz,
and boy and girl cousins play oddly together,
and doctors stare in fury at the young patients husband,
and the morning hours in which the professor, as if to pass the time,
performs his marriage duties, and breakfasts,
and moreover, the adulterers, who love each other truly
on beds as high and deep as ocean liners:
finally, eternally surrounding me
is a gigantic forest breathing and tangled
with gigantic flowers like mouths with teeth
and black roots in the shape of hooves and shoes.
I Do Not Love You Except Because I Love You - Pablo Neruda
I do not love you except because I love you;
I go from loving to not loving you,
From waiting to not waiting for you
My heart moves from cold to fire.
I love you only because it's you the one I love;
I hate you deeply, and hating you
Bend to you, and the measure of my changing love for you
Is that I do not see you but love you blindly.
Maybe January light will consume
My heart with its cruel
Ray, stealing my key to true calm.
In this part of the story I am the one who
Dies, the only one, and I will die of love because I love you,
Because I love you, Love, in fire and blood.
Carnal Apple, Woman Filled, Burning Moon - Pablo Neruda
Carnal apple, Woman filled, burning moon,
dark smell of seaweed, crush of mud and light,
what secret knowledge is clasped between your pillars?
What primal night does Man touch with his senses?
Ay, Love is a journey through waters and stars,
through suffocating air, sharp tempests of grain:
Love is a war of lightning,
and two bodies ruined by a single sweetness.
Kiss by kiss I cover your tiny infinity,
your margins, your rivers, your diminutive villages,
and a genital fire, transformed by delight,
slips through the narrow channels of blood
to precipitate a nocturnal carnation,
to be, and be nothing but light in the dark
🔆 Read more Poems