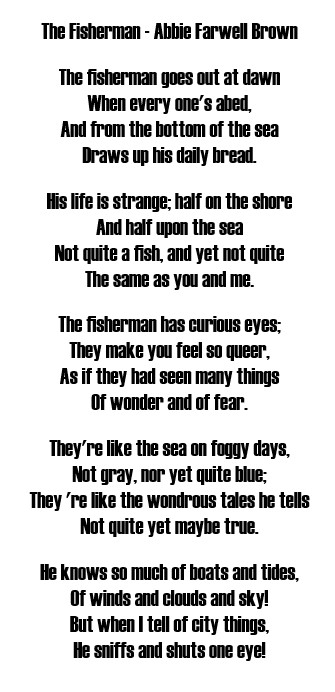 Recursos Educativos en Inglés - Poems in English - Poesías en inglés
Friends - Abbie Farwell Brown
How good to lie a little while
And look up through the tree!
The Sky is like a kind big smile
Bent sweetly over me.
The Sunshine flickers through the lace
Of leaves above my head,
And kisses me upon the face
Like Mother, before bed.
The Wind comes stealing o'er the grass
To whisper pretty things;
And though I cannot see him pass,
I feel his careful wings.
So many gentle Friends are near
Whom one can scarcely see,
A child should never feel a fear,
Wherever he may be.
The Fisherman - Abbie Farwell Brown
The fisherman goes out at dawn
When every one's abed,
And from the bottom of the sea
Draws up his daily bread.
His life is strange ; half on the shore
And half upon the sea
Not quite a fish, and yet not quite
The same as you and me.
The fisherman has curious eyes;
They make you feel so queer,
As if they had seen many things
Of wonder and of fear.
They're like the sea on foggy days,
Not gray, nor yet quite blue;
They 're like the wondrous tales he tells
Not quite yet maybe true.
He knows so much of boats and tides,
Of winds and clouds and sky!
But when I tell of city things,
He sniffs and shuts one eye!
🔆 Read more Poems