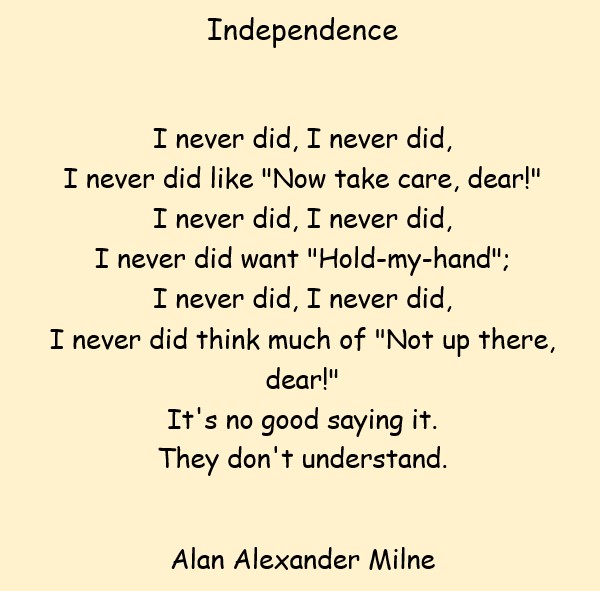 Poems Of Alan Alexander Milne - Recursos Educativos en Inglés - Poems in English
Poesías en inglés
Waiting At The Window - A. A. Milne
These are my two drops of rain
Waiting on the window-pane.
I am waiting here to see
Which the winning one will be.
Both of them have different names.
One is John and one is James.
All the best and all the worst
Comes from which of them is first.
James has just begun to ooze.
He's the one I want to lose.
John is waiting to begin.
He's the one I want to win.
James is going slowly on.
Something sort of sticks to John.
John is moving off at last.
James is going pretty fast.
John is rushing down the pane.
James is going slow again.
James has met a sort of smear.
John is getting very near.
Is he going fast enough?
(James has found a piece of fluff.)
John has quickly hurried by.
(James was talking to a fly.)
John is there, and John has won!
Look! I told you! Here's the sun!
Sneezles - A. A. Milne
Christopher Robin
Had wheezles
And sneezles,
They bundled him
Into
His bed.
They gave him what goes
With a cold in the nose,
And some more for a cold
In the head.
They wondered
If wheezles
Could turn
Into measles,
If sneezles
Would turn
Into mumps;
They examined his chest
For a rash,
And the rest
Of his body for swellings and lumps.
They sent for some doctors
In sneezles
And wheezles
To tell them what ought
To be done.
All sorts and conditions
Of famous physicians
Came hurrying round
At a run.
They all made a note
Of the state of his throat,
They asked if he suffered from thirst;
They asked if the sneezles
Came after the wheezles,
Or if the first sneezle
Came first.
They said, "If you teazle
A sneezle
Or wheezle,
A measle
May easily grow.
But humour or pleazle
The wheezle
Or sneezle,
The measle
Will certainly go."
They expounded the reazles
For sneezles
And wheezles,
The manner of measles
When new.
They said "If he freezles
In draughts and in breezles,
Then PHTHEEZLES
May even ensue."
Christopher Robin
Got up in the morning,
The sneezles had vanished away.
And the look in his eye
Seemed to say to the sky,
"Now, how to amuse them to-day?"
Halfway Down - A. A. Milne
Halfway down the stairs
Is a stair
Where I sit.
There isn't any
Other stair
Quite like
It.
I'm not at the bottom,
I'm not at the top;
So this is the stair
Where
I always
Stop.
Halfway up the stairs
Isn't up
And it isn't down.
It isn't in the nursery,
It isn't in town.
And all sorts of funny thoughts
Run round my head.
It isn't really
Anywhere!
It's somewhere else
Instead!
Wind On The Hill - A. A. Milne
No one can tell me,
Nobody knows,
Where the wind comes from,
Where the wind goes.
It's flying from somewhere
As fast as it can,
I couldn't keep up with it,
Not if I ran.
But if I stopped holding
The string of my kite,
It would blow with the wind
For a day and a night.
And then when I found it,
Wherever it blew,
I should know that the wind
Had been going there too.
So then I could tell them
Where the wind goes…
But where the wind comes from
Nobody knows.
🔆 Read more Poems