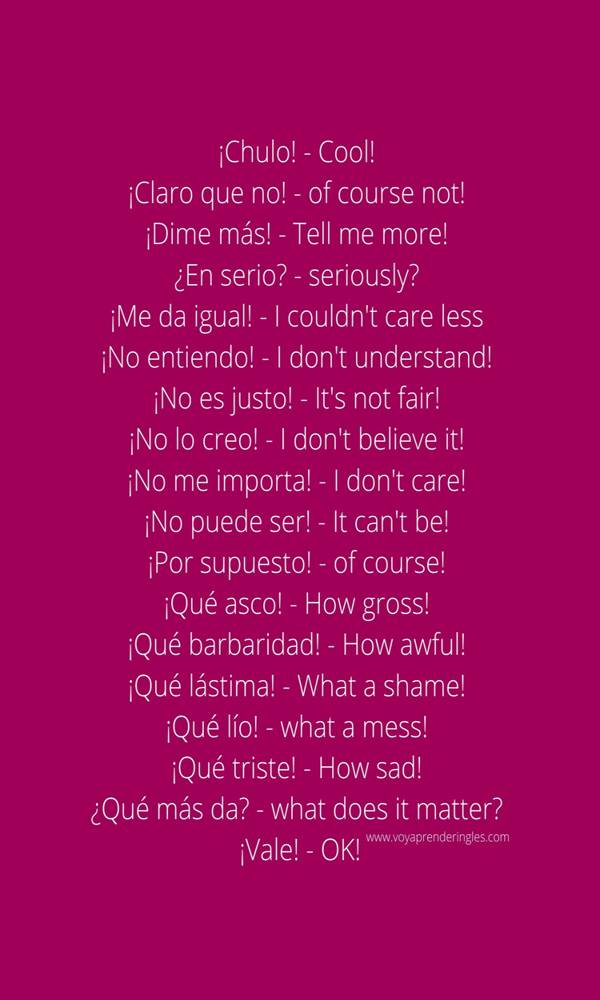 Recursos educativos en inglés - Vocabulario en inglés
Expresiones hechas en inglés
¡Chulo! - Cool!
¡Claro que no! - of course not!
¡Dime más! - Tell me more!
¿En serio? - seriously?
¡Me da igual! - I couldn't care less
¡No entiendo! - I don't understand!
¡No es justo! - It's not fair!
¡No lo creo! - I don't believe it!
¡No me importa! - I don't care!
¡No puede ser! - It can't be!
¡Por supuesto! - of course!
¡Qué asco! - How gross!
¡Qué barbaridad! - How awful!
¡Qué lástima! - What a shame!
¡Qué lío! - what a mess!
¡Qué triste! - How sad!
¿Qué más da? - what does it matter?
¡Vale! - OK!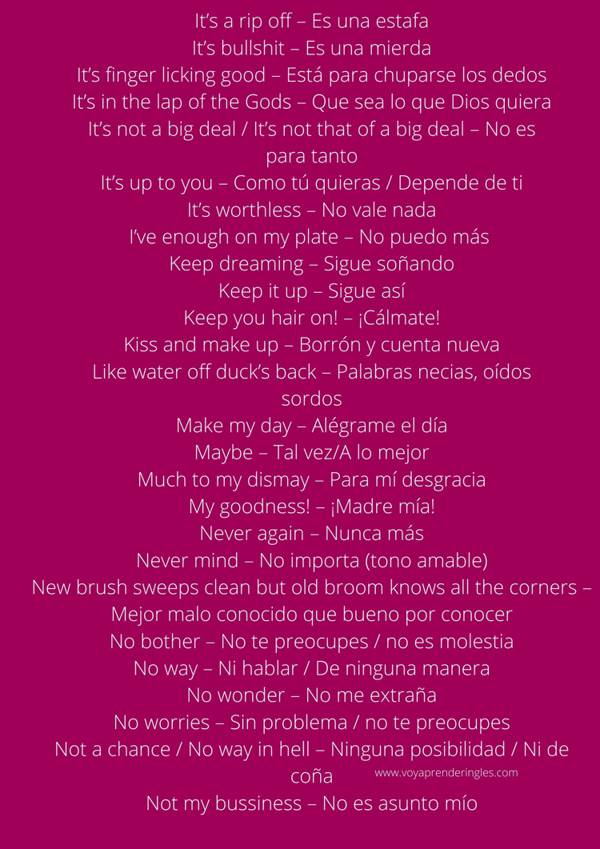 It's a rip off – Es una estafa
It's bullshit – Es una mierda
It's finger licking good – Está para chuparse los dedos
It's in the lap of the Gods – Que sea lo que Dios quiera
It's not a big deal / It's not that of a big deal – No es para tanto
It's up to you – Como tú quieras / Depende de ti
It's worthless – No vale nada
I've enough on my plate – No puedo más (con referencia a la vida)
Keep dreaming – Sigue soñando
Keep it up – Sigue así
Keep you hair on! – ¡Cálmate!
Kiss and make up – Borrón y cuenta nueva
Like water off duck's back – Palabras necias, oídos sordos
Make my day – Alégrame el día
Maybe – Tal vez/A lo mejor
Much to my dismay – Para mí desgracia
My goodness! – ¡Madre mía!
Never again – Nunca más
Never mind – No importa (tono amable)
New brush sweeps clean but old broom knows all the corners – Mejor malo conocido que bueno por conocer
No bother – No te preocupes / no es molestia
No way – Ni hablar / De ninguna manera
No wonder – No me extraña
No worries – Sin problema / no te preocupes
Not a chance / No way in hell – Ninguna posibilidad / Ni de coña
Not my bussiness – No es asunto mío
También te puede interesar: Acciones cotidianas - Everyday actions
Lecturas en Inglés - Readings in English